Sain Chandiram Sahib – Lalan Jo Lal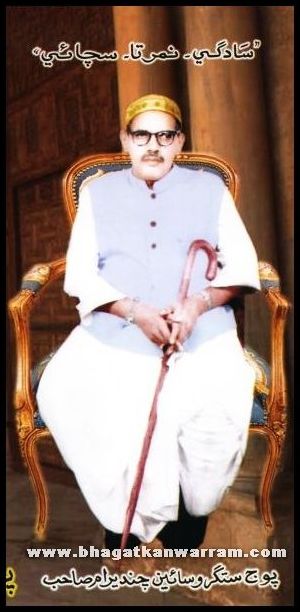 Lalan Jo Lal  Sain Chandiram Sahib
Sain Chandiram Sahib was a pious Saint of Raherki Sahib. He was a grandson of Satguru Sai Satramdas Sahib. He was very well known for his sweet melodious voice. It is said that his Kirtans and Bhaijans would attract many a people towards him. Saint Chandiram Sahib had the mastery in singing like Bhagat Sahib.
Bhai Chandiram Sahib was a spiritual man of God.
Once when he learnt that his Uncle Master Sadarangmal has passed away he told that actually it was he who was going to leave this world, but maybe Satguru Sai did not wantUncle Sadarangmal to see my death, so Sai has taken him first to his world and now it is my turn to be at Satguru Sai's feet. What Bhai Chandiram Sahib said came true and after 2 days of Master Sadarangmal's death Bhai Chandiram Sahib also left to be at Satguru Sai's lotus feet.
Sai Chandiram Sahib served at Satram Dham selflessly and blessed all the needy, poor, crippled unfortunates by his Divine blessings. Bhai Chandiram sahib would go to different different places for Bhajans and Kirtans he spread the name of his Guruji Satguru Sai Satramdas Sahib everywhere.
Bhai Chandiram Sahib's father Bhai Krishandas had also served at Raherki Sahib who was the son in law of Satguru Satramdas Sahib.Bhai Chandiram Sahib was a magnificent Saint whose name will always be in the people's heart at Raherki Sahib Devri Sahib.
www.sachosatram.com