Aad Satguru Sain Khota Ram Sahib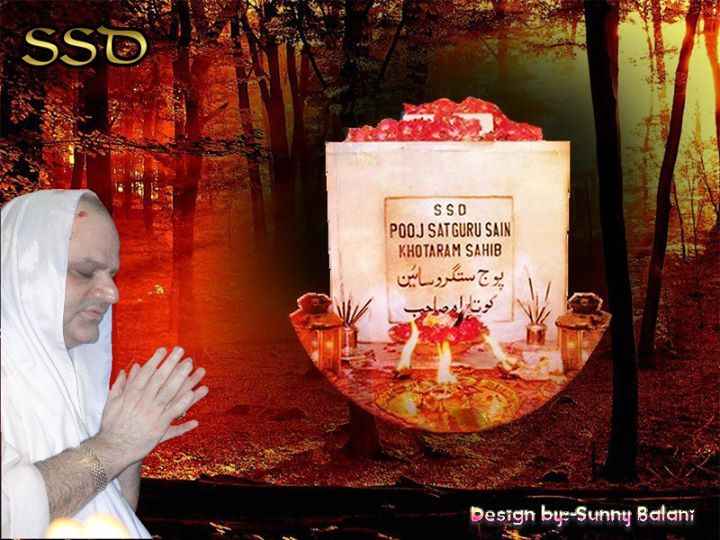 Aad Satguru Sain Khota Ram Sahib
In the Sindhi Village Raherki has a specific importance as this is the birth place of Saint Khotaram, Father of Saint Satramdas. The famous musician and spiritual master saint Jadaram was the guide of Saint Khotram on the roads of spirituality. In fact the Bhagat "Heavenlyl Music, Singing and dance " was started by Saint Khotaram. Once he was making keertan at "Pitafin" darbar, saint Tansukhlal head of the Darbar, presented "Ghunghroo" to saint Khotaram and Dance was become part of his keertan from the day.
Soon the melodious voice and devotional dance made Sant Khotaram famous through out the Sindh and he started traveling from place to place, devotee were offering various things to him but whatever he was getting during the keertan , he used to distribute it among the needy and poor people for the livelihood of self and family he was depending upon his shop at Jarvaran village.
Once he went to Rajanpur village where a strong follower of Islam has banned the Bhajan Keertan by the Hindus. saint Khotaram didn't care about it and started his keertan this made the so angry to that person that he brought a stick and broke the leather covering of tabala of Saint, all those who were present were preparing to fight with that fellow but saint Khotaram stopped them by saying "Don't fight with him, this dispute is between him and his Khuda so Khuda himself will take care of it." It is said that the person as he went to home started feeling pain and was complaining that some one is beating his stomach with sticks. The family came to Santji who was still doing the keertan and ask for mercy. Sant Khotaram replied don't ask me pray your Khuda because he had tried to prevent us from worshiping Khuda. The family prayed to Khuda and suffering person came to normalcy of the health, since that day Saint Khotaram become spiritual master of Muslims also.
After the death of Saint Khotaram, his son established a Darbar which at present being cared by Saint Sadhram Sahib.