Name of God – Biography Sain Kanwarram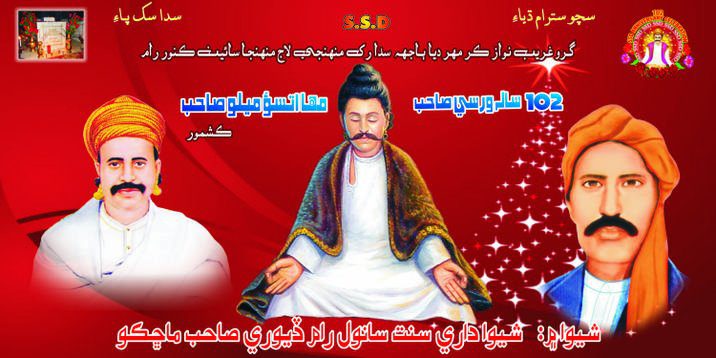 Name of God – Biography Sain Kanwarram
DR. S. K. PUNSHI
---
Saints value the name of God, most as compared to anything else earthly or even heavenly. It is said that 'Bhakti' in the form of service to humanity is better than hundred 'Muktis' or liberation. Swami Vivekananda used to say "God give me as many as births as I see nobody as hungry, poor and needy". Same words were uttered by Sadhu T.L. Waswani :
Tadrishi yadi bhaktih sya
Satu Mukti – Shatadhika
(Real Bhakti can out rival a hundred muktis).
Vedas
Kanwarram like most of the Saints would go out of the worldly way to help the poor and needy and the God's name out weighted everything what he possessed, name; fame; family etc. It is also said about Saint Jalaram of Virpur he gave away every thing in the name of Rama. He was so famous that people had undaunted faith in him, there is a saying also 'Jonakare Allah So kare Jala' (whatever God cannot do Jala can do it). He was Master of miracles. Lord Rama came to his house in the form of a mendicant, a beggar or a 'Fakir', he begged for his wife. Jala was perplexed, but he had asked his wife in the name of Rama. He said to the beggar; please wait a bit I will just come. He went inside and narrated the whole story to his wife. Jalaram's wife was also a Saintly lady. She obeyed to her husband and went with the beggar. After few yards the beggar disappeared and thus Jalaram passed the test, than he could partake and give the most precious and respectable thing in the name of Rama – that was the height of renunciation and devotion to Lord Rama!
It is narrated that once Mir Ali-Murad Talpur convicted a Muslim with imprisonment for a certain crime. The mother of the prisoner approached Saint Kanwarram for the release of his son. She related that she was poor and her only son was the earning source for the housemates. She entreated that without his son's earning the children and family would starve. She said "get my son released in the name of God help the poor lady O' Kanwar"!
Saint Kanwarram requested Mir Sahib. He ordered immediate release of the prisoner. Mir asked Kanwarram "please don't make such requests hence forth as it will disturb the administration. It will be against the law to free the prisoner". Kanwarram touching his own beard (touching a beard is a sort of gentleman's promise or word), promised not to repeat such requests. A few days later another man requested him in the name of God and he again approached the Mir for the purpose. The Mir or the ruler reminded him of his promise. Kanwarram replied "I do remember the promise but when balanced the name of God against my beard the name of God weighed heavier. Again I weighed the beards of my Guru, my father and my grand father and my own all together, still the name of God weighed heavier. Therefore I could not help approaching you again." The Mir was moved and ordered release of the second prisoner also.
"That Yajna is satvika which is performed by men desiring no fruit, as enjoyed by ordinance with their mind fixed on the Yajna only for its own sake."
Gita – XVII – II